It's true – trimming cannabis is one of the most monotonous jobs in the garden. But much the like process of knitting handmade fabrics, hand-trimming your crop is a special and necessary part of cultivation. Not only does hand-trimmed cannabis deliver a superior cut, but each flower during the hand-trimming process goes through an individual quality control inspection. This helps shape your crop to unique specifications, while also protecting flowers against undesirable contaminants like mold, mildew, pests, and seeds. Trimming is one of the last actions to complete before your home-grown cannabis is ready to be enjoyed. So, this process must be accomplished with care and diligence.
If you're ready to begin, read the passages below for step-by-step information on trimming cannabis.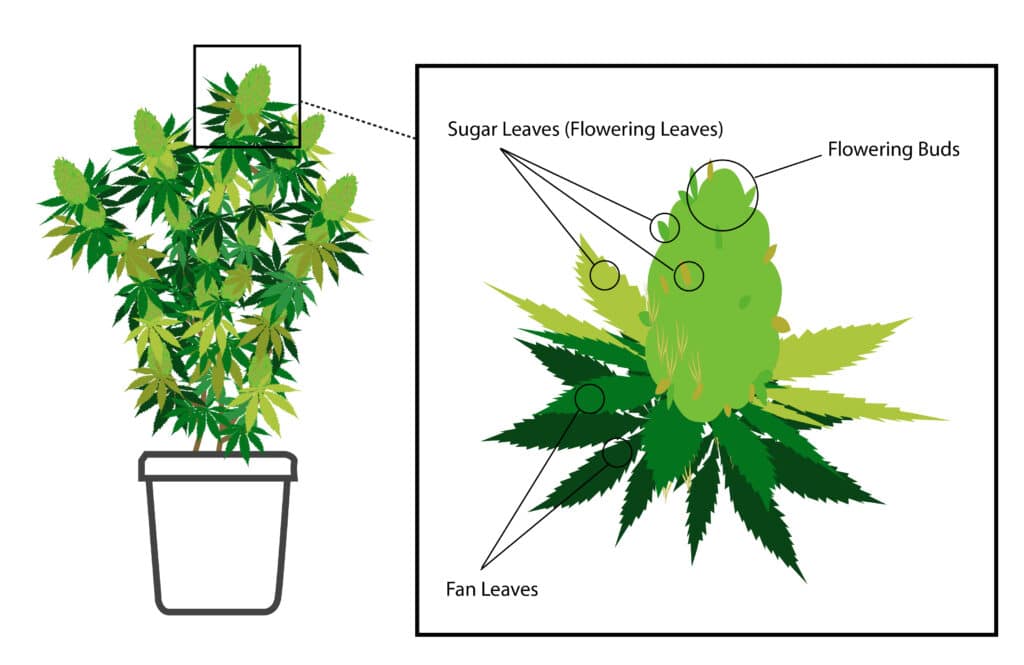 Why Trim Cannabis?
There are several reasons growers trim cannabis flowers. First, properly trimmed cannabis can exaggerate the look and appeal"top-shelf" flower. If you've ever purchased cannabis from a reputable seller, you likely understand the difference between low and high-quality buds. High-quality cannabis is trimmed to perfection, with little to no fan or sugar leaves. These leaves stick out of the flower during the growing process and help the plant absorb sunlight and protect its flowers from environmental damage. While helpful to the plant, leaves are harsher and less desirable to smoke than hardened cannabis flowers; and so, it has quickly become industry practice for high-quality cannabis to have a clean and close trim.
Sugar Leaf (Flowering Leaf)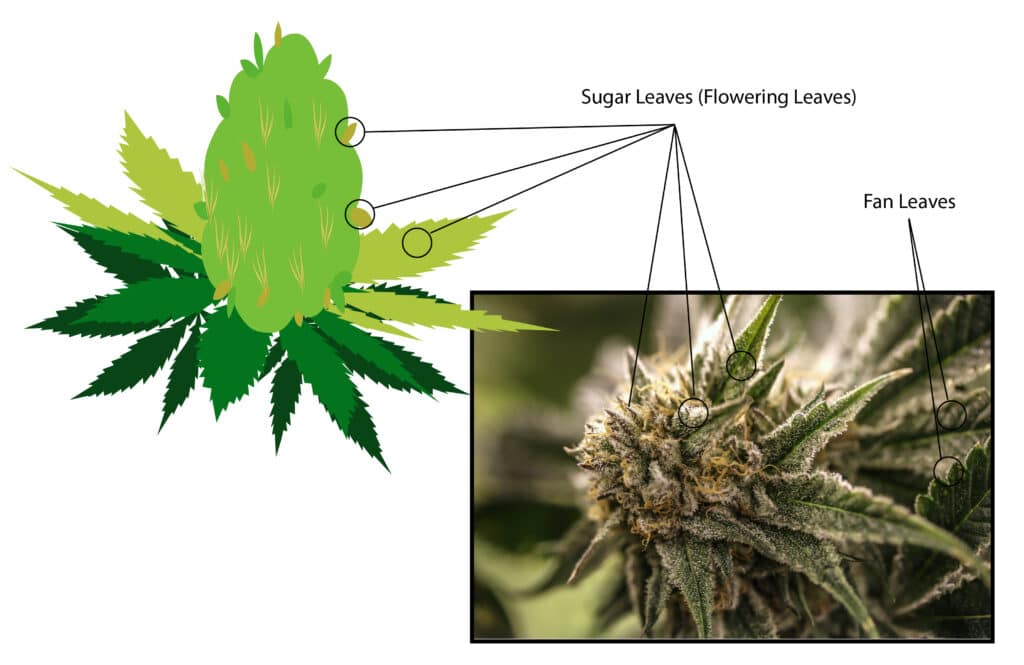 Sugar Leaves, also known as flowering leaves, are small leaves that protrude through cannabis buds during the flowering period. Unlike fan leaves, the stems of sugar leaves are challenging to detect and should not be removed until the last stage of trimming. The name sugar leaf comes from the thick coating of trichomes that starts on the cannabis flower but extends to the small leaves closest to the center of the bud. Flowering leaves in the vegetative stage will likely turn into sugar leaves as your plants continue to bloom. To learn more about the transition of flowering leaves to sugar leaves, read the blog: How to Top, Lollipop, and Prune Cannabis Plants.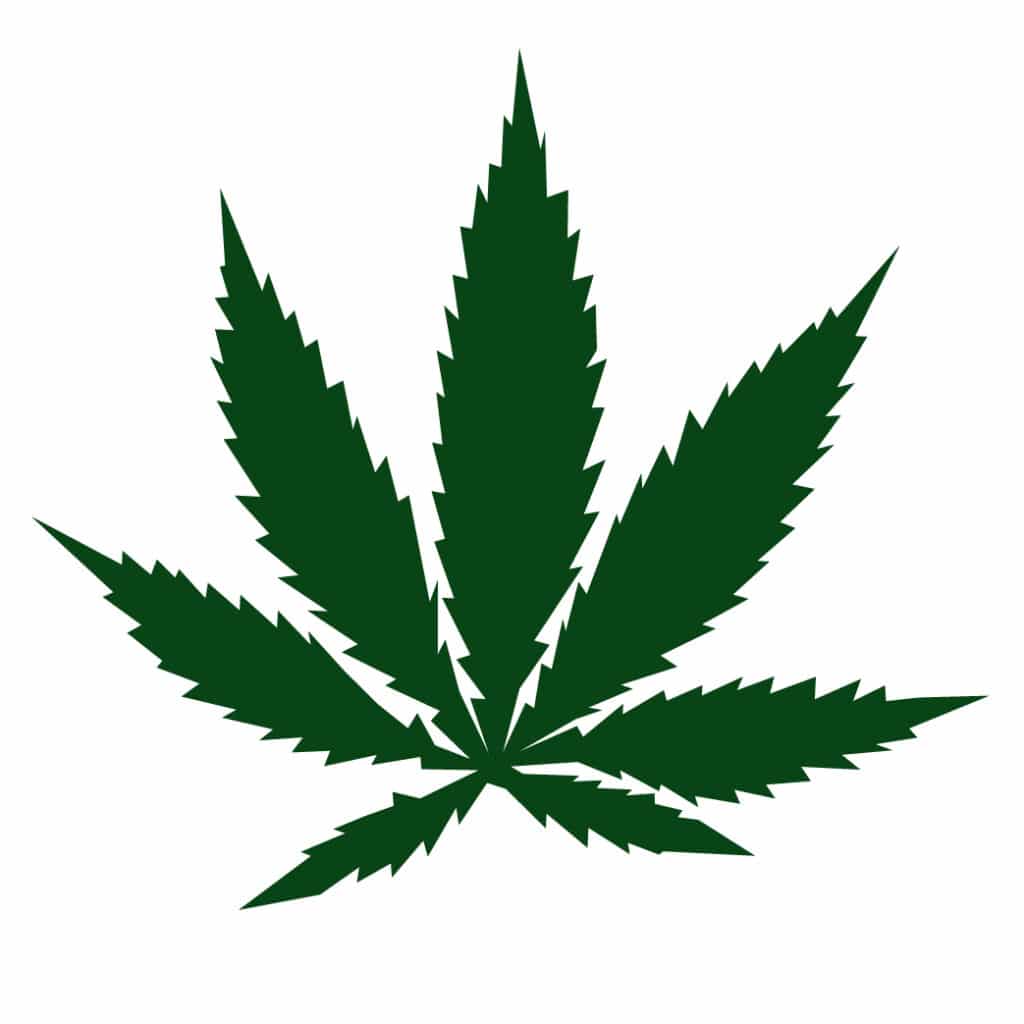 Fan leaves are large, broad leaves that act as a plant's "solar panels". Fans leaves are also known as shade leaves because they are often so large that they can shade or block access to light and air from other parts of the plant. Fan leaves can be removed during the following shaping techniques: lollipopping, pruning.
Next, trimmed flowers contain higher percentages of THC and are less likely to develop a "hay-like" aroma after being stored. It doesn't matter if your sugar leaves are coated in trichomes – gram-for-gram, cannabis flowers will always have a higher concentration of cannabinoids. And unlike cannabis flowers, sugar leaves dry out quickly and leave your crop smelling like hay or mildew instead of potent cannabis. Remember, a strong aroma is one of the unique selling points of quality cannabis. So, if you're looking to produce the most potent cannabis possible, be sure to trim your flowers to perfection before consumption.
Trimming Cannabis Step-by-Step
Step #1: Purchase Trimming Equipment
Before you trim, purchase the following equipment: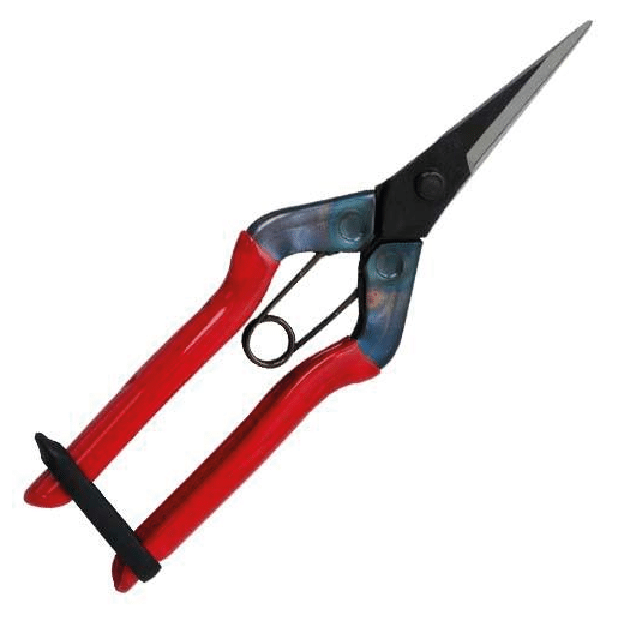 Scissors – The sharper and more precise the blade, the better. Stay away from kitchen or fabric scissors bought from department stores – for the best cut, purchase bonsai or pruning shears from your local garden store.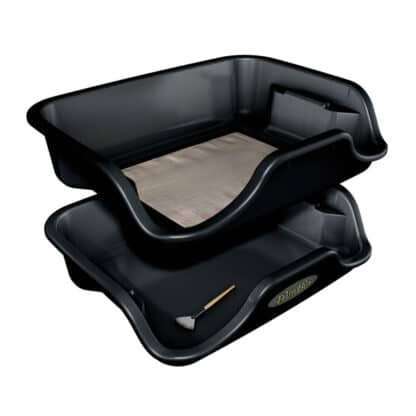 Trays – Trays will act as your personal table when trimming. Baking sheets, plant trays, or specialty containers like the Harvest-More® Trim Bin will help contain the mess and fight fatigue when trimming.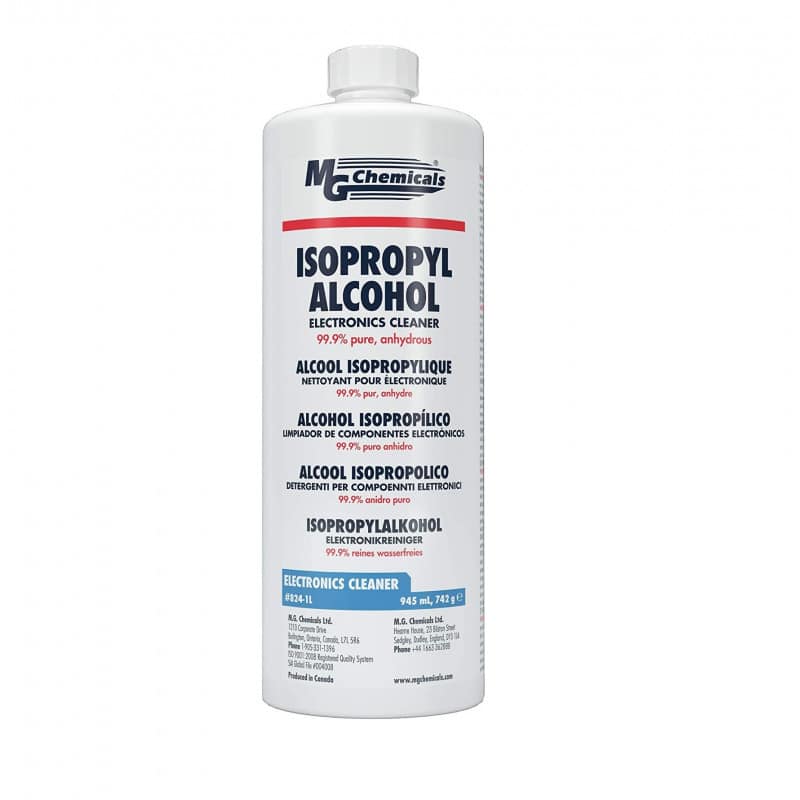 Isopropyl alcohol – Iso is a great sterilant to keep handy when trimming. Clean your trimming station and scissors periodically throughout the process to avoid contaminants and resin build-up.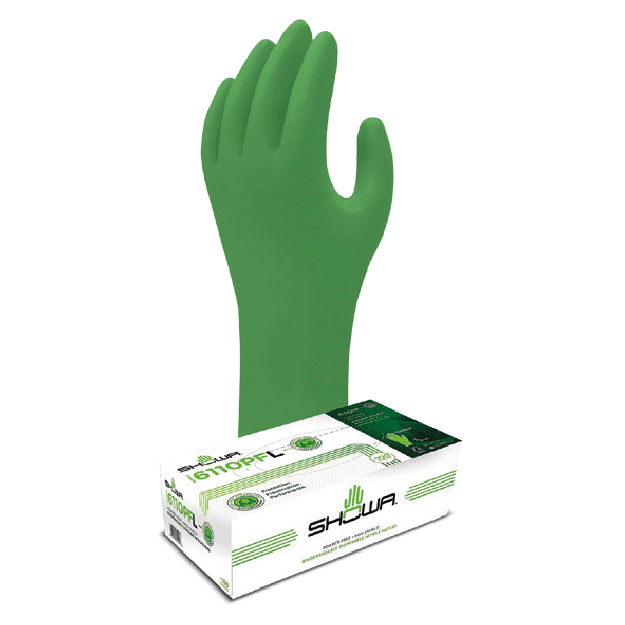 Disposable gloves – Ripe cannabis is naturally sticky; so, be prepared to go through a lot of gloves while trimming. For the best results, purchase powder-free, nitrile gloves that fit your palm size. Sizing charts are available on the back of disposable gloves containers.
Step #2: Get Comfy
Trimming cannabis is a boring job. So, be sure to keep yourself awake, occupied, and motivated during the entire process. Invite friends over to help with the workload, put on some music or a movie, stay hydrated, and take lots of breaks. But most importantly, get comfortable. It's likely your back will begin to hurt after just a few hours of hand-trimming cannabis. So, do yourself a favor and get comfy in a plush chair and keep your back in an upright position as long as possible.
Step #3: Cut Branches into Sections
Begin by cutting your plant into sections of stalks or branches. This is done because it is much easier to manage individual branches instead of the whole plant. You may want to work on a single branch at a time (see step #4) as to not overwhelm your trimming station.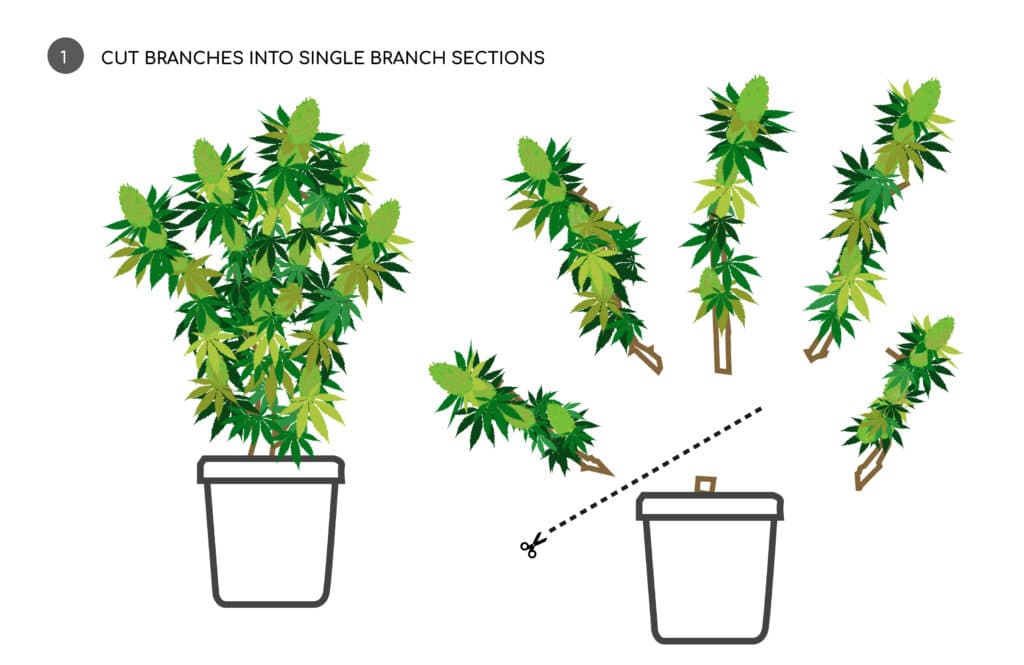 Step #4: Remove Large Fan Leaves
Large fan leaves are of no use to the plant anymore. So, before you begin to trim your flowers, start by removing the large fan leaves of your plant. Some fan leaves are brittle enough that they can be removed with your fingers; however, be careful not to break or damage any buds if you plan to remove fan leaves by hand.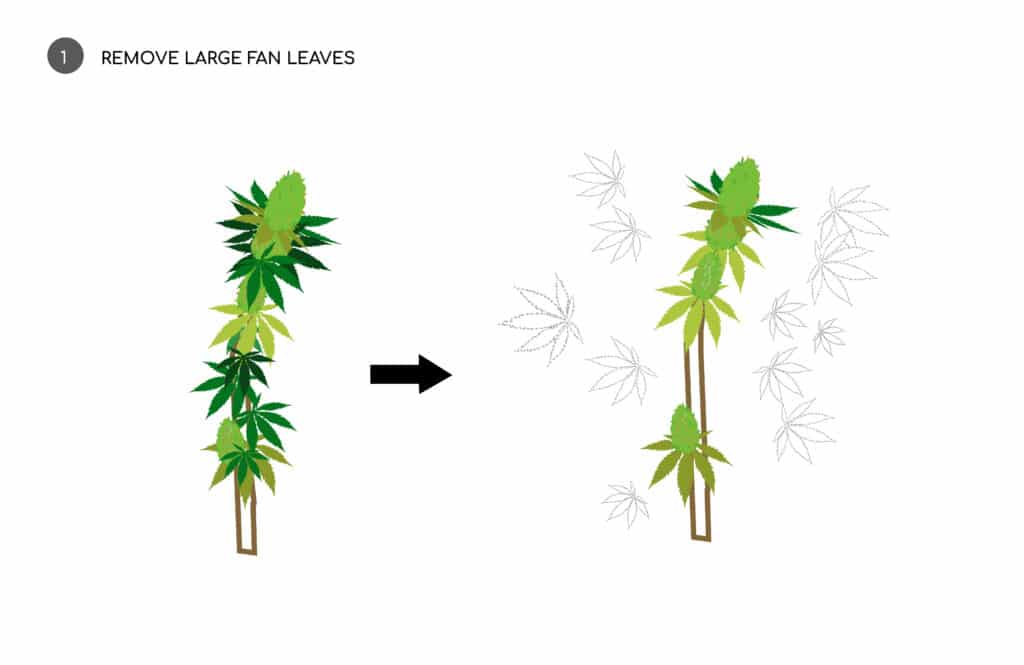 Step #5: Remove Cannabis Flowers from the Stalk
To achieve a 360 degree trim, you must first remove flowers from the stalk of your plant. Begin by locating the flowers you would like to trim along the stalk of your plant. Then, cut the node that connects the base of the flower to the plant.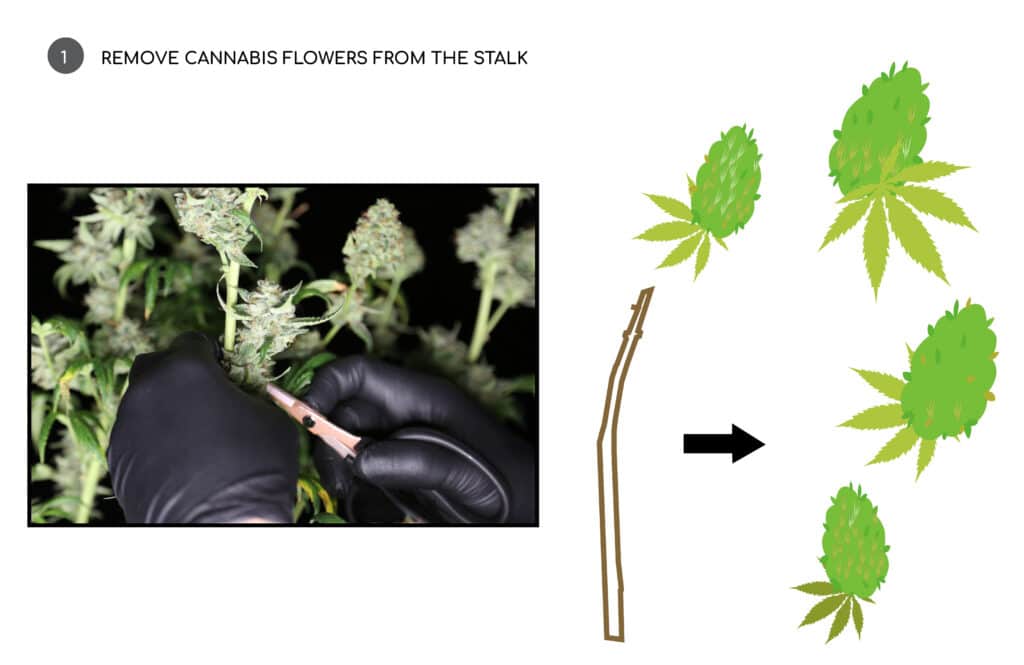 Step #6: Trim and Remove Sugar Leaves
Gently pick up your flowers and examine the small, trichome encrusted leaves sticking out of the sides. These are called "sugar leaves", and while they might be littered with sugary trichomes, they often lead to a harsher, more undesirable smoke. For the best smoking or vaping experience, remove sugar leaves during this stage of the trimming process. Carefully remove the sugar leaves by getting as close to the flower with your scissors as possible, creating a smooth, evenly trimmed surface of pure flower. Rotate the bud in your hand and continue to trim off any leaves that stick out of your flower.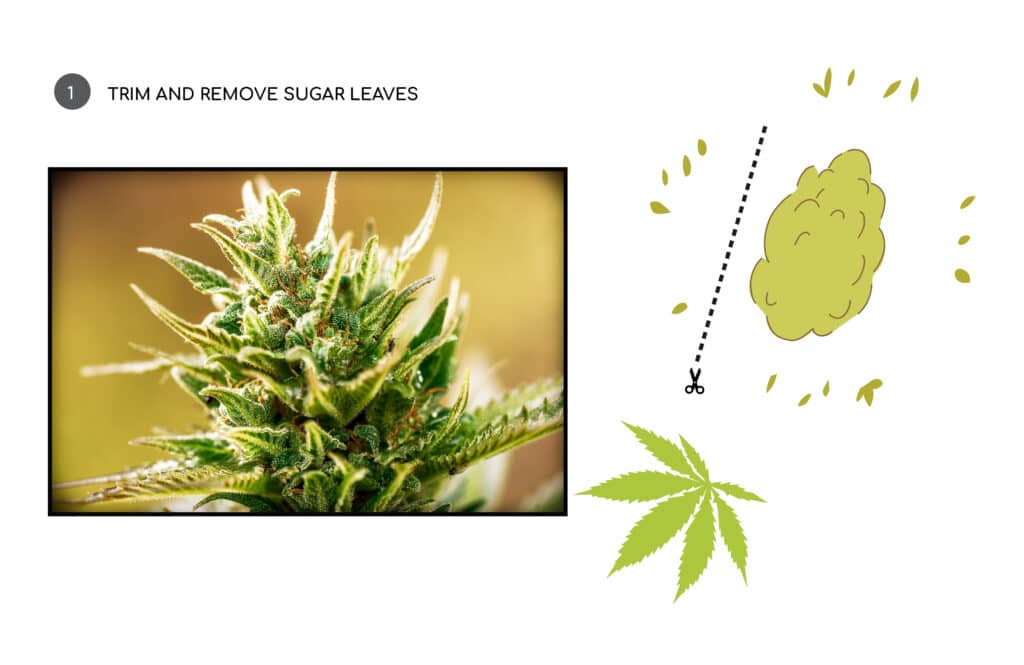 Step #7: Inspect the Quality of Your Cannabis Flowers
Examine your flowers for possible contaminants like molds, mildews, pests, and seeds. This is perhaps the most important aspect of trimming your crop by hand – growers have the best chance of spotting and stopping crop-damaging contaminants from spreading during the drying and curing process. Set up multiple quality assurance checkpoints before you put your cannabis flowers in long-term storage containers.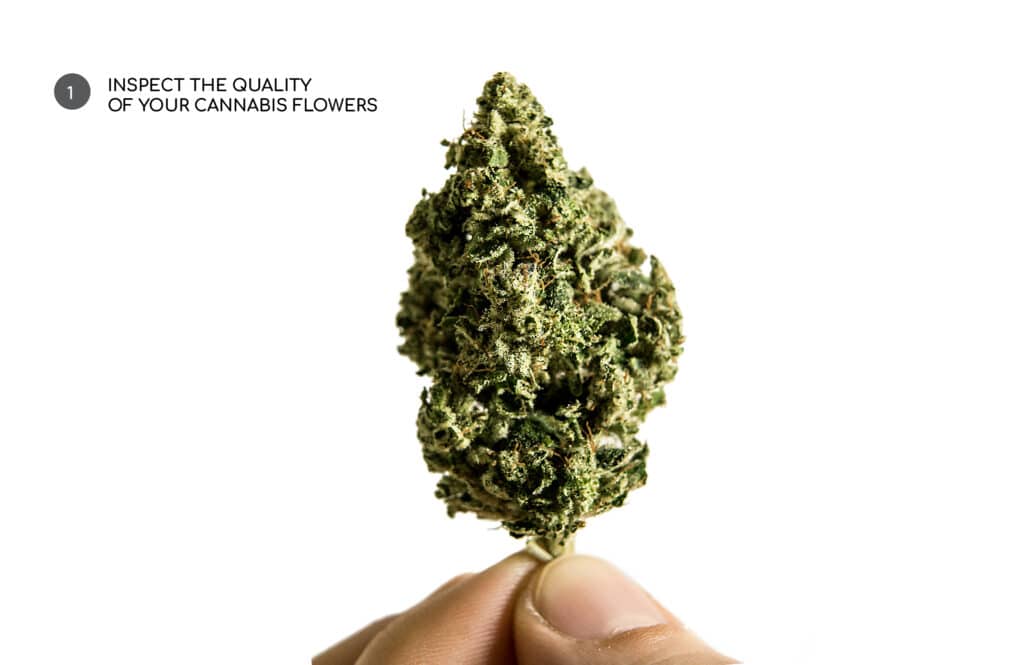 Congratulations on growing cannabis at home! Join us for more information about growing cannabis at home. For more tips on trimming cannabis, contact our team at Grow Your Four.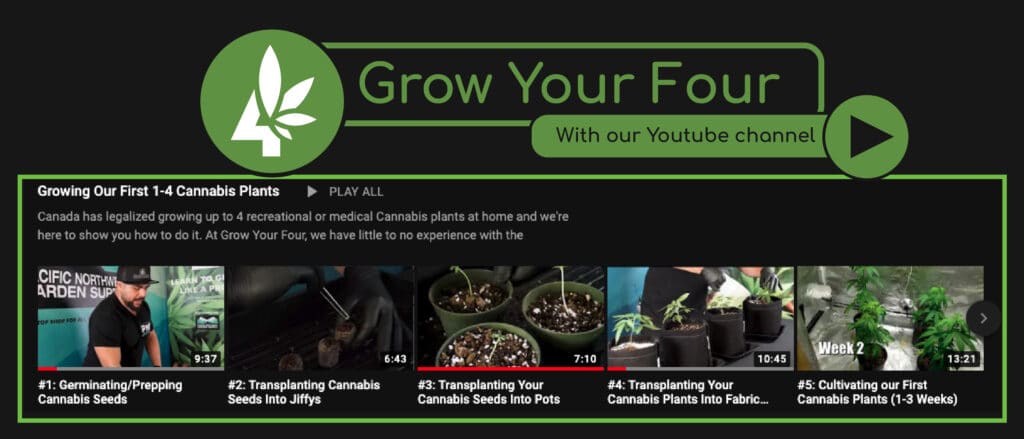 Read More
Tips on Curing Homegrown Cannabis

After your cannabis is dried and processed, it's time to think about curing, burping, and re-humidifying your crop to the perfect smoking and vaping consistency. Unlike drying, the process of curing cannabis involves slowly aging flowers in airtight containers to help seal in unique flavors and aromas. Much like the process of aging fine

How to Trim Cannabis to Perfection in 7 Easy Steps

It's true – trimming cannabis is one of the most monotonous jobs in the garden. But much the like process of knitting handmade fabrics, hand-trimming your crop is a special and necessary part of cultivation. Not only does hand-trimmed cannabis deliver a superior cut, but each flower during the hand-trimming process goes through an

Grow Your Four's Guide to Harvesting and Drying Cannabis

By the end of week 8, your plants will likely be ready for harvest. Harvesting cannabis involves the important process of carefully drying plants to preserve and protect unique flavors and aromas. Much like the process of aging fine wine, carefully drying your crop has the potential to exaggerate the nose and taste of